Seven New Passport Gold and Silver Winners
Malcolm Dare, Executive Director of Commercial and Procurement at National Highways, and Teresa Moss, Health, Safety and Wellbeing Business Partner at National Highways, presented the certificates to representatives from the winning organisations and projects.
Teresa Moss said of the Passport Gold and Silver winners: "I was delighted to hand out awards for Passport Gold and Silver. Passport is very important to National Highways, and these awards reflect our gratitude to organisations that have gone above and beyond to help establish Passport – to the benefit of the entire highways supply chain. Costain, Joe Roocroft & Sons Limited, DDC and Jet Plant are all deserving of the Silver award. CWF Area 4, CHC Highways Area 14 M&R and the SVD M1 project have been exemplary in their Passport usage. All contractors involved should be very proud of their Gold award, especially Costain, the SMP Alliance and Jacobs, who were all involved in leading these projects and contracts."
Future Awards
Passport Gold and Silver will be awarded monthly. If you want to learn more about Passport Gold and Silver or submit an application form, click here to submit an application.

About Passport Gold
Passport Gold is awarded to major projects that are swiping workers on and off site and have done so for at least six consecutive weeks, or to operations contracts that are swiping or spot-checking consistently and have done so for at least six consecutive weeks.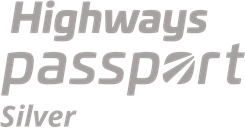 About Passport Silver
Passport Silver is awarded to organisations whose entire highways workforce is Passport-carded and, where relevant, have completed the Highways Common Induction.